A perfect fall treat for frisky pups are these Homemade Apple Crisp Crackers Dog Treats and they contain only healthy ingredients.  Not only do most dogs love the taste of apples, they contain vitamin c and fiber.  You can opt to leave out the sugar, but it is a small amount for the large quantity of crackers in this recipe.  It adds a touch of sweetness that makes these crackers a treat.  Be sure not to allow your dog to ingest apple seeds as they contain a form of cyanide and in large quantities are harmful to dogs.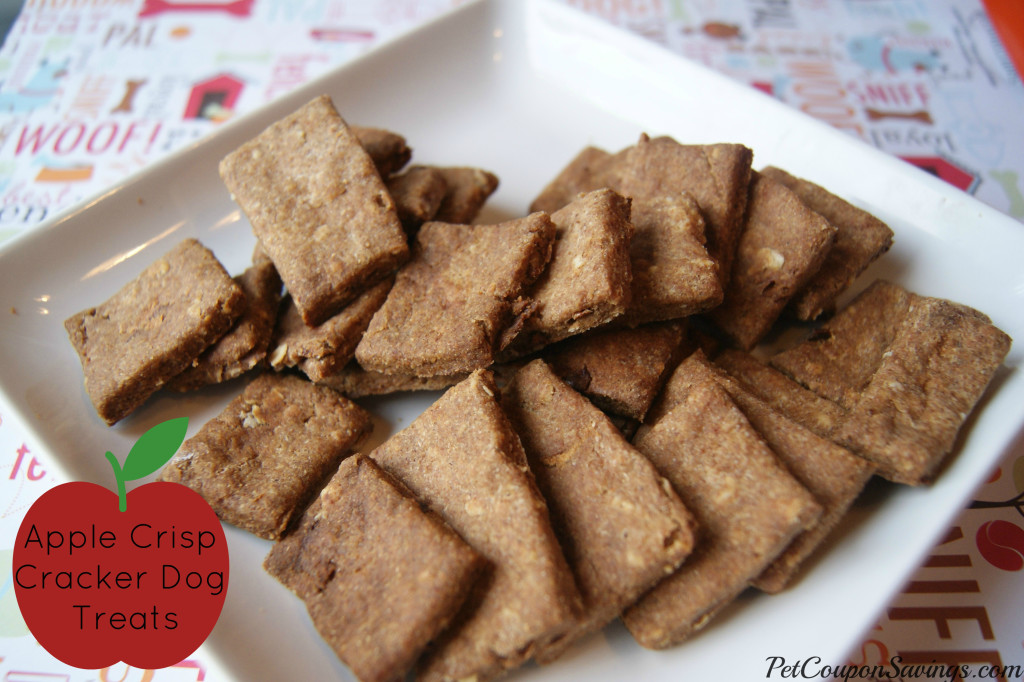 Homemade Apple Crisp Cracker Dog Treats Ingredients:
2 ½ cups whole wheat flour
½ cup quick cook oats
1 apple
1 egg
1/3 cup coconut oil
1 Tbsp. brown sugar
½ cup water

Homemade Apple Crisp Cracker Dog Treats Instructions:
Preheat oven to 350°
Wash apple well, grate, including peel if you like.
In a medium sized bowl combine grated apple, flour, oatmeal, egg oil, brown sugar, and water until well combined.
Flour surface lightly with whole wheat flour, roll out dough to 1/8" thickness.
Cut into 1 ½" x 1 ½ " squares or 1"x 2" rectangles with a knife or pizza cutter.
Lift crackers with a knife or thin spatula and place on baking sheet that has been sprayed with nonstick spray or covered in foil.
Bake for 20 minutes, turn oven off and allow crackers to remain in hot oven another 20-30 minutes or until crackers are crisp.
Store apple crisps in an airtight container in the refrigerator.  I prefer to store all my homemade treats in the refrigerator to extend their shelf life, as they are made without preservatives and additives.
We hope that your dog enjoys these Homemade Apple Crisp Cracker Dog Treats!
Here are some other great treats to make for your dog: