Fall is in the air and what do I (as well as many others) associate with Fall? Pumpkin! I love pumpkin everything. Fall needs to be cherished by all, even your pups! Here is a fantastic Homemade Pumpkin Pupcakes recipe that your dog is going to roll-over for. Don't they look delicious?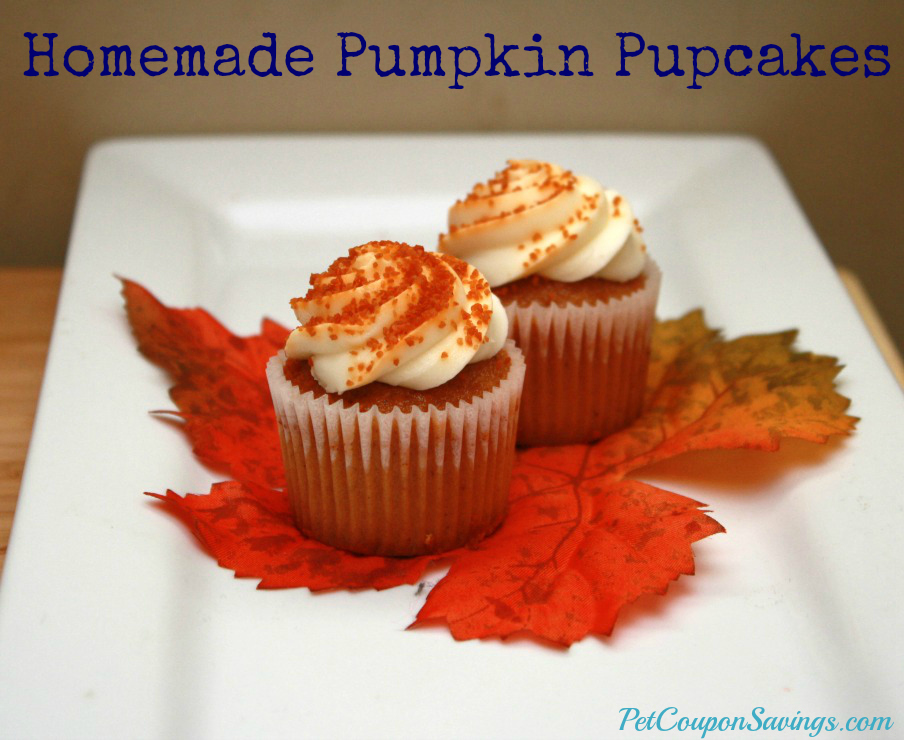 Homemade Pumpkin Pupcakes Ingredients:
3/4 cups whole-wheat flour
1/2 cup oats
1 Tbsp dry milk
1/2 Tbsp baking powder
1/4 tsp baking soda
1/4 tsp kosher salt
1/2 cup canned pumpkin puree
1/2 cup water
1/4 cup olive oil
1 large egg
Makes 24 mini Pup Cakes
Optional: whipped cream and sprinkles for topping.
Homemade Pumpkin Pupcakes Directions:
Arrange 24 mini-muffin cups with paper liners. Preheat the oven to 400° F.
Combine the dry ingredients (whole-wheat flour, oats, baking soda, baking powder, salt, dry milk) and mix together. Add the pumpkin, water, oil and egg. Stir to combine.
Transfer the batter to the prepared cups. Bake for about 10 minutes. Allow to cool before topping with whipped cream. You can use pup-safe sprinkles as well, but those are optional. Don't forget to take the liners off before giving them to your dog! :)
These can be frozen as well.
Did you know?
Pumpkin is very healthy not only for humans but for dogs as well. Pumpkin is known to naturally soothe a dog's stomach and aid in overall digestive health. Pumpkin provides a lot of fiber in your dog's diet. The natural oils found in pumpkins are also known to aid in urinary health as well.
Pumpkin is also a great source of beta-carotene, vitamin A, iron and potassium. You can add pureed pumpkin to homemade dog treats, pupcakes, or just mix it right in with their everyday food. So be sure to stock up on pumpkin puree and enjoy the health benefits of pumpkin all year long!
We hope your dog enjoys these Homemade Pumpkin Pupcakes, too!
See also:
Homemade Pumpkin Peanut Butter Dog Treats