These Homemade Sweet Potato Chews Dog Treats are so delicious you will want to snack on them yourself. Without byproducts, additives, or fillers. They are made with only 3 simple and  inexpensive ingredients that you can feel great about feeding to your pet. If you are looking for a grain-free treat for your dog this is a great alternative.
Sweet potatoes are full of  lots of amazing things like; Vitamin E, Potassium, Iron, Fiber, Antioxidants, and are great for regulating insulin levels.  Olive oil is a healthy fat that humans and pets both need in their diet.  Cinnamon is known to be great for digestion, circulation, cognitive function, and also regulating insulin levels- and most dogs love the flavor that cinnamon adds to the sweet potato (so do I).
These Homemade Sweet Potato Chews Dog Treats are a great treat for dogs with diabetes due to 2 out of 3 ingredients aiding in regulating insulin, and a perfect treat for dogs with arthritis as cinnamon also contains anti-inflammatory properties-but of course, always check with your veterinarian.  Another benefit to this snack is that it is cooked to be a bit tough, promoting chewing which is beneficial in helping to remove plaque from your dogs teeth.  Try cooking up a batch, you will be surprised how easy they are to prepare, and how much your pooch will love them.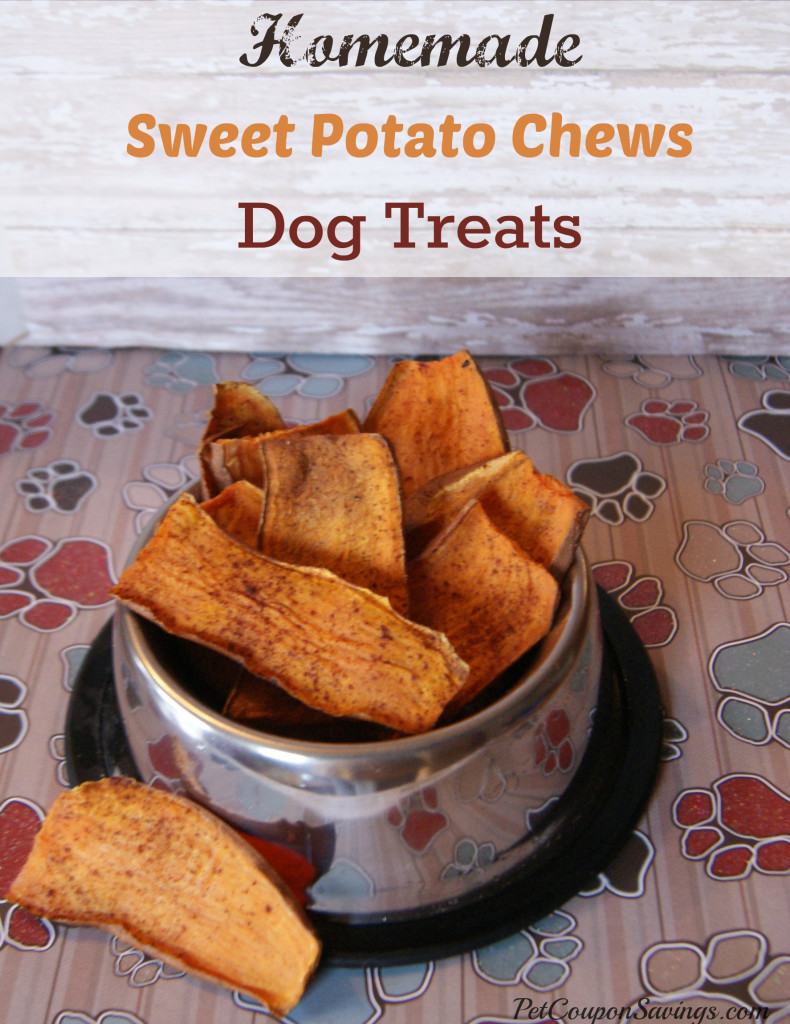 Homemade Sweet Potato Chews Dog Treats Ingredients:

Homemade Sweet Potato Chews Dog Treats Instructions:
Preheat oven to 250° F.
Slice sweet potatoes into long strips about 1/4" thick using a sharp butcher knife or a mandolin.
To make slicing easier, slice on one side and then rest the potato on the flat side. Cut strips across perpendicular to the first slice. For small dogs you can then cut these wide strips into narrow pieces if you want a smaller treat.
Toss sweet potato slices in a large bowl with olive oil, stir and toss well to coat thoroughly.
Place on a cookie sheet, lined with parchment paper or aluminum foil.
Sprinkle with cinnamon.
Bake for 2 ½ to 3 hours.
Allow to cool and store in refrigerator in an airtight container for up to 3 weeks, or in the freezer for up to 4 months.
We hope your dogs enjoy these Homemade Sweet Potato Chews Dog Treats, too!
See also: