Ok I'll admit it, I tried these Homemade Peanut Butter Bacon Dog Treats, I mean come on its peanut butter and bacon, what could it hurt? For the record I didn't enjoy it, but my dogs did, and literally begged for more.  Dogs seem to love those Beggin' Strips treats but they have too many mystery ingredients. It feels good knowing that what I am putting in their little furry bodies is much higher quality and fresher than what comes off the supermarket shelves. These treats I consider to be homemade Beggin' Strips dog treats (except these don't have "bacon flavor", they have real bacon in them)! Next time you have leftover bacon from breakfast save it in a baggie in the freezer to make these, ok we never have leftover bacon either, but this is the perfect excuse to make more bacon.
Homemade Peanut Butter Bacon Dog Treats Ingredients:
Homemade Peanut Butter Bacon Dog Treats Instructions:

Preheat oven to 300°
 In a medium sized bowl combine all ingredients, using your hand works best to blend well.
Lightly flour surface, roll dough to 1/8- ¼" thick rectangle, using a knife cut dough into 1" wide by 3" long strips.
Spray cookie sheet with nonstick cooking spray or line with aluminum foil.
Run knife or spatula under dough strips to life from surface, ripple dough so it resembles a ribbon, or a piece of bacon, as you lay it on baking sheet.
Bake for 20 minutes, allow to cool.
Store in refrigerator in an airtight container for up to 2 weeks.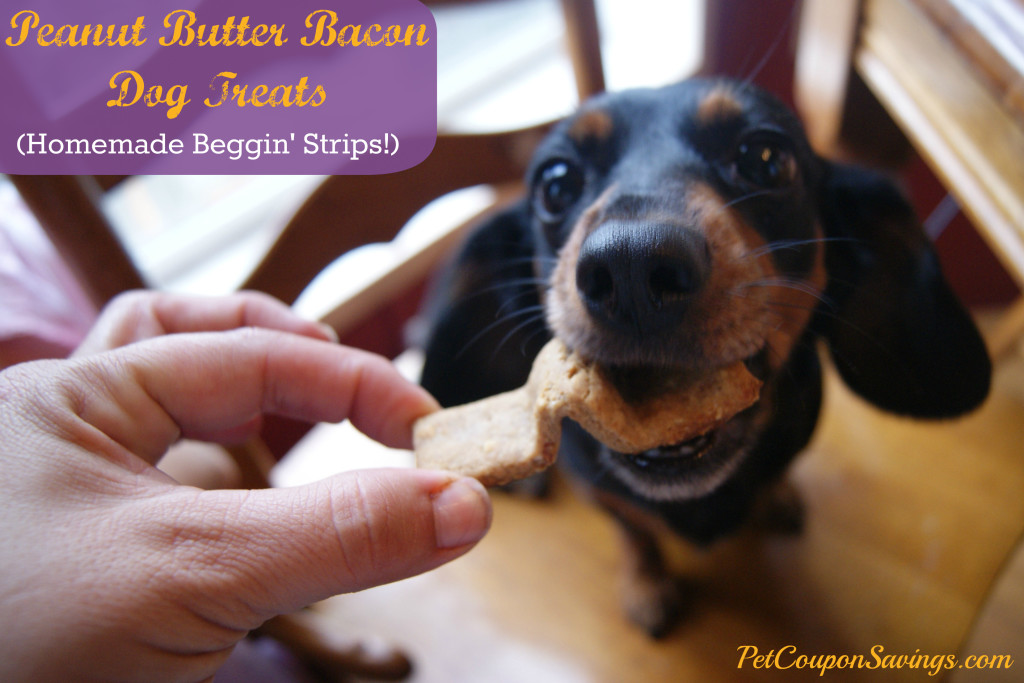 We hope your dog enjoys these scrumptious Homemade Peanut Butter Bacon Dog Treats!
See also: