Does your dog love Frosty Paws (dog ice cream)? Learn how to make Homemade Frosty Paws with only 3 ingredients!
The scorching days of Summer can make anyone long for an ice cream treat, even a dog! Frosty Paws are ice cream that is made by Purina and can be found in a lot of pet stores and grocery stores in the frozen foods section. These little dog ice cream treats can start to take a major strain on your wallet. You can still treat your dog to some ice cream and keep more money in the bank by making homemade frosty paws. These ice cream treats are so simple to make, the hardest part is just waiting for them to freeze!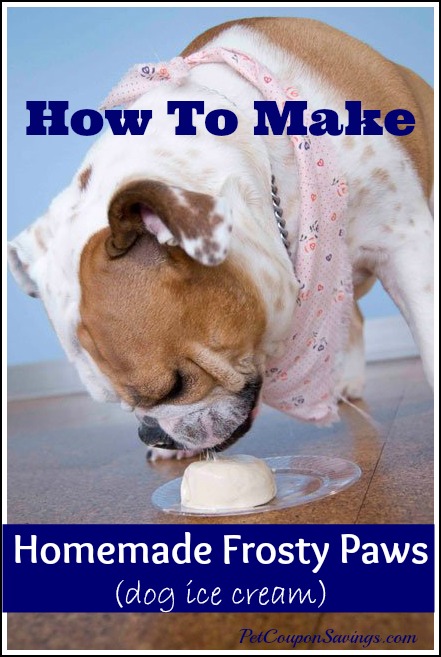 Homemade Frosty Paws Recipe:
(1) 32 oz. container of All-Natural Plain or Vanilla-Flavored Yogurt (If your dog is lactose-intolerant you can substitute with soy-yogurt instead.)
(1) cup of All-Natural Peanut Butter
(2) ripe bananas (If you have babies you can also substitute a large jar of banana baby food for this.)
(1) package of small Dixie cups or (1) ice cream molds tray
Optional: You can also add honey or fruit like strawberries or blueberries. Another good option would be pureed canned pumpkin (not pie filling).
Instructions:
Blend all ingredients with a blender, food processor or mixer. Once all ingredients are smooth then pour into equal portions into the Dixie cups or in the ice cream molds. Place Dixie cups on a cookie sheet to freeze in the freezer. Or if using ice cream molds just pop the molds tray into the freezer.
Once frozen you can pop the ice cream treats out of their Dixie cups or ice cream molds into a zip-top freezer bag.
*You can also use this dog ice cream mixture as a way to stuff your dog's Kong. Pour the homemade frosty paws mixture into the Kong, then put the Kong in the freezer to freeze. Pull out the Kong when frozen and let your dog enjoy!
Easy as that! You'll have homemade frosty paws ready to go in the freezer whenever your pup needs a nice cool treat.
See also:
Enjoy reading about animals? Check out our other animal articles.