Try this yummy recipe for Homemade Tuna Bite Cat Treats and see if it doesn't send your kitty into a purr-fest. Our furry feline friends deserve a delicious healthy homemade treat too. Made from kitchen ingredients that you probably  already have on hand you can feel pretty good about passing out these treats. Placed in a jar and tied up with a pretty ribbon these treats make a great gift for fellow cat lovers.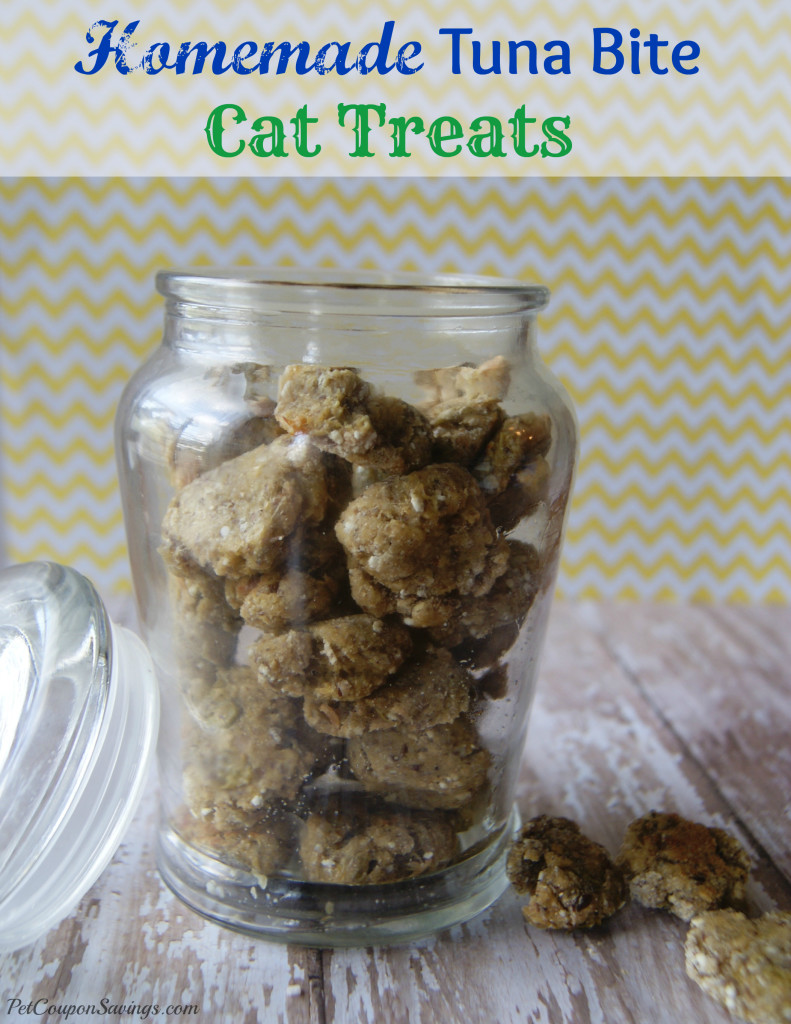 Homemade Tuna Bite Cat Treats Ingredients:
6 ounce can of tuna in oil
2 tsp. Parsley diced, fresh or dried
½ cup whole wheat flour
½ cup powdered milk
1 tbsp. frozen carrots or peas mashed
1 egg
¼ cup ground flax seed
1 Tbsp. Olive oil
3 Tbsp. Water
Homemade Tuna Bite Cat Treats Instructions:

Combine flour, powdered milk and ground flax seed. In a separate bowl combine tuna, olive oil, carrots, parsley, water and egg.
Make a well in the center of your flour mixture and pour wet ingredients into middle. Combine very well with a wooden spoon, or better yet-use your hands.
Shape dough into small balls- between the size of a blueberry and a grape. Place them on a foil lined cookie sheet. Press down lightly with your thumb. Bake in an oven preheated to 350° for 10 minutes, turn treats over and cook an additional 5 minutes.
Store treats in an airtight container in the refrigerator.
We hope your cat enjoys these Homemade Tuna Bite Cat Treats!