Make these easy Homemade Gluten Free Dog Treats for your gluten sensitive pup. Just like many humans have Gluten allergies or intolerance so do many dogs. In dogs this presents itself with symptoms such as; itchy, irritated, and flaky skin, inflamed ears, constant licking of paws, bowel problems, hypertension and seizures.
If you are looking for a biscuit type dog treat that is gluten free this might just be the one for your pup. Dogs adore this little biscuit, it is a good snack size and filled with good things. These Homemade Gluten Free Dog Treats are made with rice flour to create a biscuit texture without the gluten that is in the typical flour used in dog treats. A healthy addition of carrots and olive oil for coat and overall health, with some beef flavor to keep your little carnivore happy. This recipe makes about 15 half dollar sized biscuits.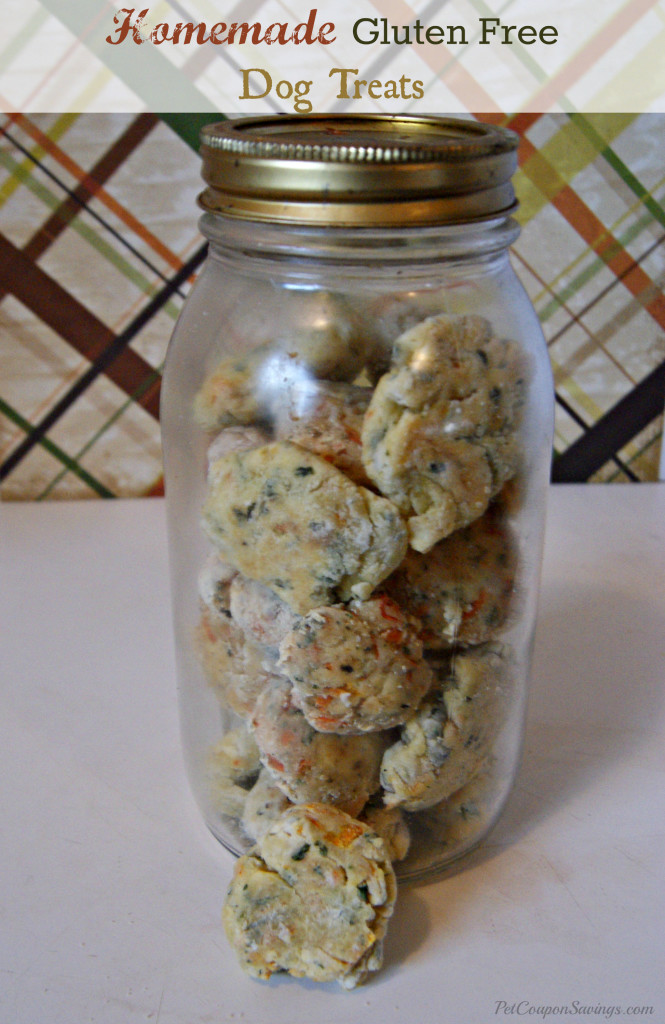 Homemade Gluten Free Dog Treats Ingredients:
1 ½ cups rice flour
¼ cup beef broth, low sodium
¼ cup olive oil
½ cup grated carrots
1 egg
2 Tbsp. parsley flakes

Homemade Gluten Free Dog Treats Instructions:
Preheat oven to 350°.
In a medium bowl, use your hands to mix all ingredients until thoroughly combined.
Roll into small balls, place on cookie sheet and flatten slightly with palm.
Bake for 10-12 minutes on a cookie sheet that has been sprayed with non-stick cooking spray until very lightly golden.
You can bake for a few additional minutes if you want a crunchy treat, some dogs prefer their treats a little softer.
Store in an airtight container in the refrigerator for up to 2 weeks.
We hope that your dogs enjoy these Homemade Gluten Free Dog Treats, too!
See also: