In today's Meet My Pet post we are featuring YoYo the Min-Pin and Spaz the Boxer-Mix. Read on to learn more about these lovely dogs.
Meet My Pet: YoYo and Spaz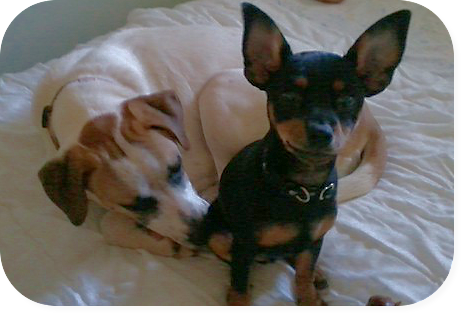 Proud Guardian: Claudia M.
About: "YoYo: Min-Pin, Spaz: Boxer -Mix"
How We Met: "Adopted from shelter."
My Pet's Favorite Food: "YoYo – any and everything chicken and turkey. Spaz – he eats everything, no favorites"
My Pet's Favorite Toys: "YoYo – tennis ball Spaz – squeaky ball"
What is Unique, Quirky or Funny About My Pet: "YoYo barks you to death while Spaz licks you to death :)"
YoYo and Spaz look like best buds. We can't wait to post more Meet My Pet articles here on Pet Coupon Savings!
We want to feature your lovely pets here on the site. Your pet is unique and perfect just for you and we would love to share their awesomeness with everyone. A nice perk to bragging about your pets with a Meet My Pet entry is that you'll be entered into a $25 Amazon Gift Card Giveaway every month!