Disclosure: This post is sponsored by Lunchbox but Pet Coupon Savings only shares information that we feel is relevant and beneficial to our readers.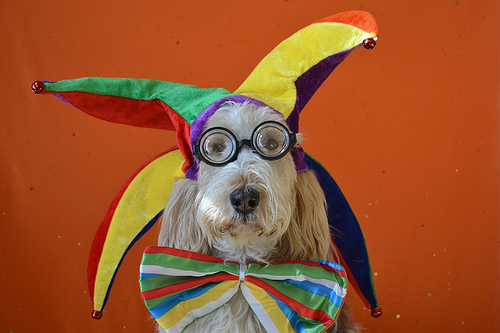 Can you believe it is almost time for Halloween? This month is flying by, are you prepared to celebrate with all of the members of your family, including your pets? We have some great Halloween Pet Safety tips and some great Halloween dog treats recommendations to help make this the happiest Halloween yet. Also, be sure to check out the Pet Hub photo contest for your chance to win $500!
Will you be gifting your dog and their doggy friends some treats this Halloween?
If your dog is friendly and loves greeting people at the door on Halloween then consider making cute doggy treat bags for all of the furry friends that come by to trick or treat. There are a lot of options you can do for the goodie bags and then simply toss in some Milk-Bone, Milo's Kitchen or Pup-Peroni dog treats. All of your dog's furry friends will want to stop by your house multiple times every Halloween. *Check out this fun video showing how to make some easy and cute doggy treat bags!
Our Top 3 Halloween Pet Safety Tips:
1. Just say NO to chocolate…for your dogs!
We all love our Halloween sweets and treats, but treats for humans are not the same as treats for dogs. Chocolate can be quite toxic to dogs and should be stored safely away from them. Dogs don't have to go without any treats at all, there are some great treat options available for them such as Milk-Bone, Milo's Kitchen and Pup-Peroni. Your dog is sure to love receiving any of these made in the USA treats while trick or treating this Halloween. We at Pet Coupon Savings love to save money and these dog treats frequently have coupons available so you can save and make your dogs happy at the same time!
2. Keep pets inside and away from the front door.
The only person that can keep your pet truly safe is you. As their pet parent you know their behaviors and tendencies. If your dog gets overly-excited when strangers approach or seems to get stressed out amongst new people then consider keeping them inside your home away from trick or treaters. Your dog will find comfort in being in a familiar place and will feel safe with you near by.
3. Make sure your pet has their collar on with their ID tag.
Just in case your pet gets spooked this Halloween and happens to wander off during the festivities you will want to make sure that they are wearing their collar and ID tag. This will increase the likelihood of them being returned promptly back to you. If your pet is wearing a costume this Halloween make sure to still have their collar and ID tag on them.
Halloween is quickly approaching and your pets can join in on the fun with these treats from Big Heart Pet Brands. Everyone loves a gift for every occasion, so why not include your pets in the treat giving and they too can have a fur-tastic Halloween!
Don't miss out on your chance to win some cash! Go here to Gleam to enter to win $500 with your dog's Halloween costume pic.
Also, be sure to go here to the Pet Hub website to enter the Halloween dog photo contest for $5,000 and be sure to use the #TreatThePups hashtag on Instagram.
*Note: Be sure to follow all of the entry requirements to make sure that your entries are valid. To enter simply share your pictures on Instagram with the hashtag #TreatThePups, share the contest with your friends and visit Walmart's Pet Hub site.
We would love it if a Pet Coupon Saving's reader was the winner! Be sure to let us know if you win! :)
Treat all the Pawesome pets this Halloween!