Considering feeding your dog hypoallergenic dog food? Some dogs do just fine with traditional commercial dog food. Some dogs need a more specialized diet that includes organic and hypoallergenic dog food. Dogs who suffer from allergies or skin conditions will often benefit from hypoallergenic food. You might end up spending a few extra dollars a month on hypoallergenic dog food but you could end up saving yourself thousands in vet fees. A dogs natural digestive system is set up to naturally digest proteins and vegetables. The unnatural substances found in commercial dog food can make it very hard for the digestive system to properly digest.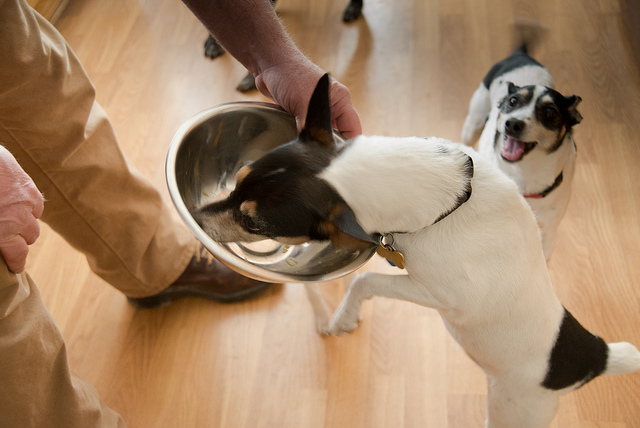 Benefits of Hypoallergenic Dog Food
Brown rice is typically used instead of corn, wheat or diary. Corn, wheat and dairy are often the cause of allergies in dogs. You should also make sure your dog's food does not contain soy.
The protein found in hypoallergenic dog food will normally consist of duck, venison or salmon. Traditional dog food contains chicken, pork and lamb which isn't as easy on a dogs digestive system.
Hypoallergenic dog food contains ingredients that will be easier for your dog to digest.
A dogs natural digestive system is set up to digest proteins and even some vegetables. Unnatural substances often found in traditional dog food can make it harder to digest.
You are eliminating fillers and other additives that do nothing for the health of your dog.
Dogs that consume hypoallergenic food are often healthier, live longer and require less visits to the vet.
Hypoallergenic food has fewer ingredients than commercialized dog food. This will help you to determine the allergy your pet is suffering from.
Brands of Hypoallergenic Dog Food
This list will give you a few hypoallergenic dog food brands to look into. In order to make an informed decision about what food to feed your dog always talk to your veterinarian. If your dog continues to have problems even after switching their food make sure to take him or her in for a check up and further evaluations.
Where to Buy Hypoallergenic Dog Food
In most cases you can find hypoallergenic dog food at a pet store or at your vet's office. You can also order online through Amazon and specialized online pet store companies. Before you purchase any food for your dog make sure you read over the ingredients in the food. You will want to avoid any food that has dyes, additives or fillers.