Disclosure: This post is sponsored by Lunchbox but Pet Coupon Savings only shares information that we feel is relevant and beneficial to our readers.
It's hard to believe that Halloween is fast approaching. I love fall and everything that comes with it. Halloween is a fun experience for the whole family, including our furry family members. Big Heart Pet Brands is encouraging us to #TreatThePups this Halloween. Let's celebrate this Halloween with a fun and festive dog bandanna filled with delicious doggy treats.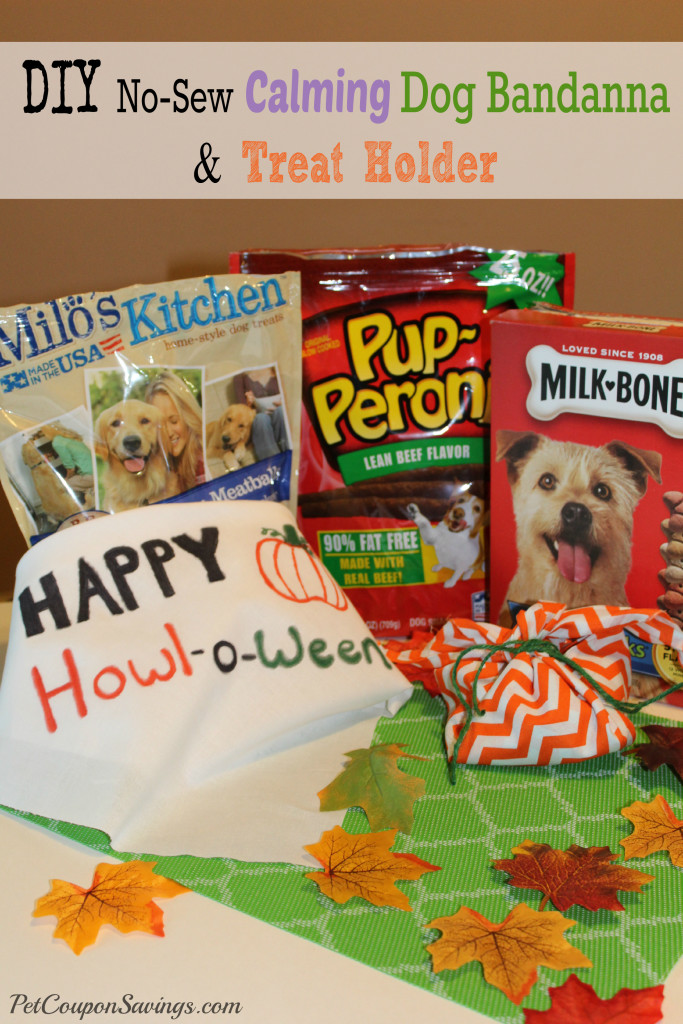 Halloween can be an exciting and fun night but it can also be a source of stress for the more timid furry family members. I recently learned that an easy and natural way to calm your dog is to use a drop or two of lavender essential oil gentry rubbed into their coat. (*Note: Do NOT feed your dogs lavender essential oil.)
So I came up with an easy idea to integrate the calming effects of lavender with a fun dog treat holder idea all-in-one!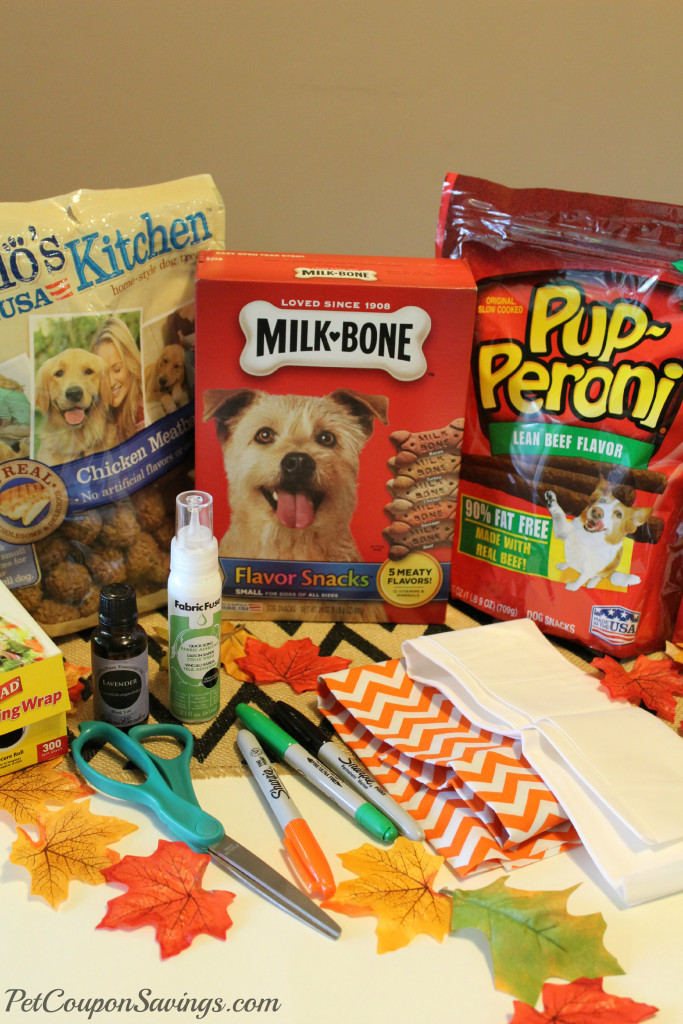 Supplies Needed:
Fabric cut into squares. (The size you cut will depend on the size of your dog's neck)
Scissors to trim fabric
Sharpie or fabric markers if you want to draw a fun fall-themed picture on the bandanna.
Fabric glue or hemming tape.
Plastic wrap (to hold treats in)
100% Lavender essential oil (to rub 1-2 drops into the bandanna material)
A fun variety of dog treats. I chose Milk-Bone, Pup-Peroni and Milo's Kitchen:


Milk-Bone®: Wholesome and delicious treats you can feel good about giving.
Pup-Peroni®: Real Meat is the #1 ingredient with a mouthwatering aroma that dogs simply can't resist.
Milos Kitchen®: Home-style dog treats made with 100% real chicken or beef.

These Big Heart Pet Brands dog treats can be purchased from your local Walmart.

Instructions for No-Sew Calming Dog Bandanna:

Cut fabric into a square.
Fold the fabric into a triangle until the edges meet.
Use your fabric glue or hemming tape in-between both layers of fabric and bond together by pressing along the creases with your hands.
Wait until the fabric glue dries.
Add 1-2 drops of 100% lavender essential oil to your hands and then massage the bandanna to distribute the oil throughout.
Use sharpie or fabric markers to draw onto your bandanna. (If using a fabric that you would like to write/draw on.)
That's it! Fold the top edge over a couple times and then tie it gently around your dog's neck. A fun and easy way to keep your dog calm and festive for fall!

Instructions to Use Calming Dog Bandanna as Treat Holder:

Grab a fun variety of dog treats like Milk-Bone, Pup-Peroni and Milo's Kitchen and place them in the middle of some plastic cling-wrap. Wrap up the treats in the cling-wrap.
Place the wrapped dog treats in the middle of the completed DIY No-Sew Calming Dog Bandanna.
Fold the edges lengthwise over the treats.
Bring the edges together and then tie into a bow to secure the treats inside the bandanna. Embellish with cotton twine if desired.
Make several to fill with Big Heart Pet Brands dog treats and give to all of your doggy friends this Halloween.

Looking for more fun ways to treat your pup this Halloween? Be sure to check out Big Heart Pet Brands #TreatThePups page!