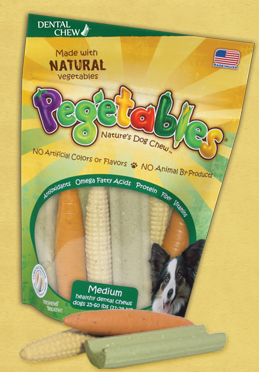 Pegetables dog treats are dental dog treats shaped like vegetables; carrots, celery or corn. I personally think they are cute!
$1 off Pegetables Dog Treats Coupon (register to print)
More info about Pegetables:
"Pegetables are nutritious and delicious premium dental dog chew treats made with real vegetables. Made from natural ingredients, Pegetables provide dogs with the daily beneficial supplements derived from real vegetables to help them live longer and healthier lives. Pegetables are fortified with antioxidants, vitamins, minerals, essential fatty acids, protein, fiber, calcium, and vitamins A, B, C, D, & E. The texture of Pegetables promotes proper dental hygiene for dogs due to the natural brushing action during the longer chewing experience. Pegetables are clinically proven to significantly reduce plaque and tartar build-up in dogs when used as a regular dietary supplement.

Pegetables chew treats are available in three nutritious flavors: carrot, corn, and celery. Carrot helps your dog maintain good vision and also supplies energy. Corn helps provide a shiny coat and strengthens the immune system. Celery helps maintain healthy joints and detoxifies the liver."
Looking for more printable coupons? Check out our other Pet Coupons and Print Coupons right here on Pet Coupon Savings. Thank you for saving with us!