Homemade dog toys are inexpensive and provide you with a never ending choice of themes, like a hot dog! This cute and fun DIY Water Bottle Dog Toy cost almost nothing to make, yet it is a favorite of my dogs. I have bought several dog toys that are made by inserting an empty water bottle inside to give it volume. Dogs love the satisfying crunch and the crinkling sound from biting down on it. So I figured, why not try to make one myself? I couldn't quite resist the irony of a hot dog for my hot dog-dog. She was not impressed with my humor but she did have a great time gnawing on it and keeping it away from me and the other dogs. Grab a couple pieces of felt and an empty bottle and make one of these for your favorite pooch.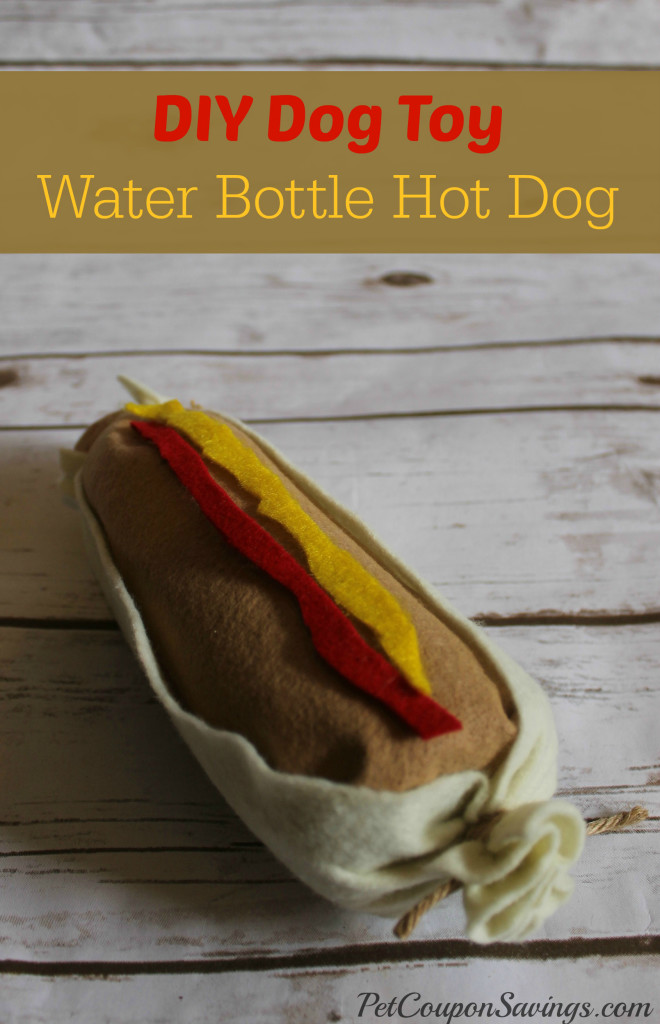 DIY Water Bottle Dog Toy Supplies Needed:
empty water bottle
1 cream felt square
1 brown felt square
1 small piece red felt
1 small piece yellow felt
hot glue gun, glue stick
sisal string

DIY Water Bottle Dog Toy Directions:
Clean and dry out and empty water bottle, remove lid.
Cut brown felt to the same size as water bottle, from base to just below neck, affix with hot glue if desired, I did not, I wanted to use as little glue as possible so if the dog pulled it apart they wouldn't be eating it.
Trim about 3" of the width of your cream colored felt and wrap it around your bottle, beginning on the opposite side of where you began your brown felt.
Wrap string around each end several times and tie it off very tightly, cut off excess string and all but 1/2" of felt on either end.
Cut a 5" wavy length of red and yellow felt.
Hot glue red and yellow strips to center of brown felt ( or you can pre-sew to center of brown felt).
Let us know if you make this super cute Hot Dog DIY Water Bottle Dog Toy, too!