These Homemade Cinnamon Roll Dog Treats will be quite the treat for your pup! Made with coconut oil which is as good for your pets as it is for you. Coconut oil is known to; improve digestion, regulate and balance insulin, reduce weight, increase energy, and aid in arthritis or ligament problems. A cute, whimsical treat that resembles a sugary breakfast staple, minus the fat and excessive sugar. Perfect for your little tail wagging friend or to box up as a tasty gift. These do contain sugar so remember all things in moderation.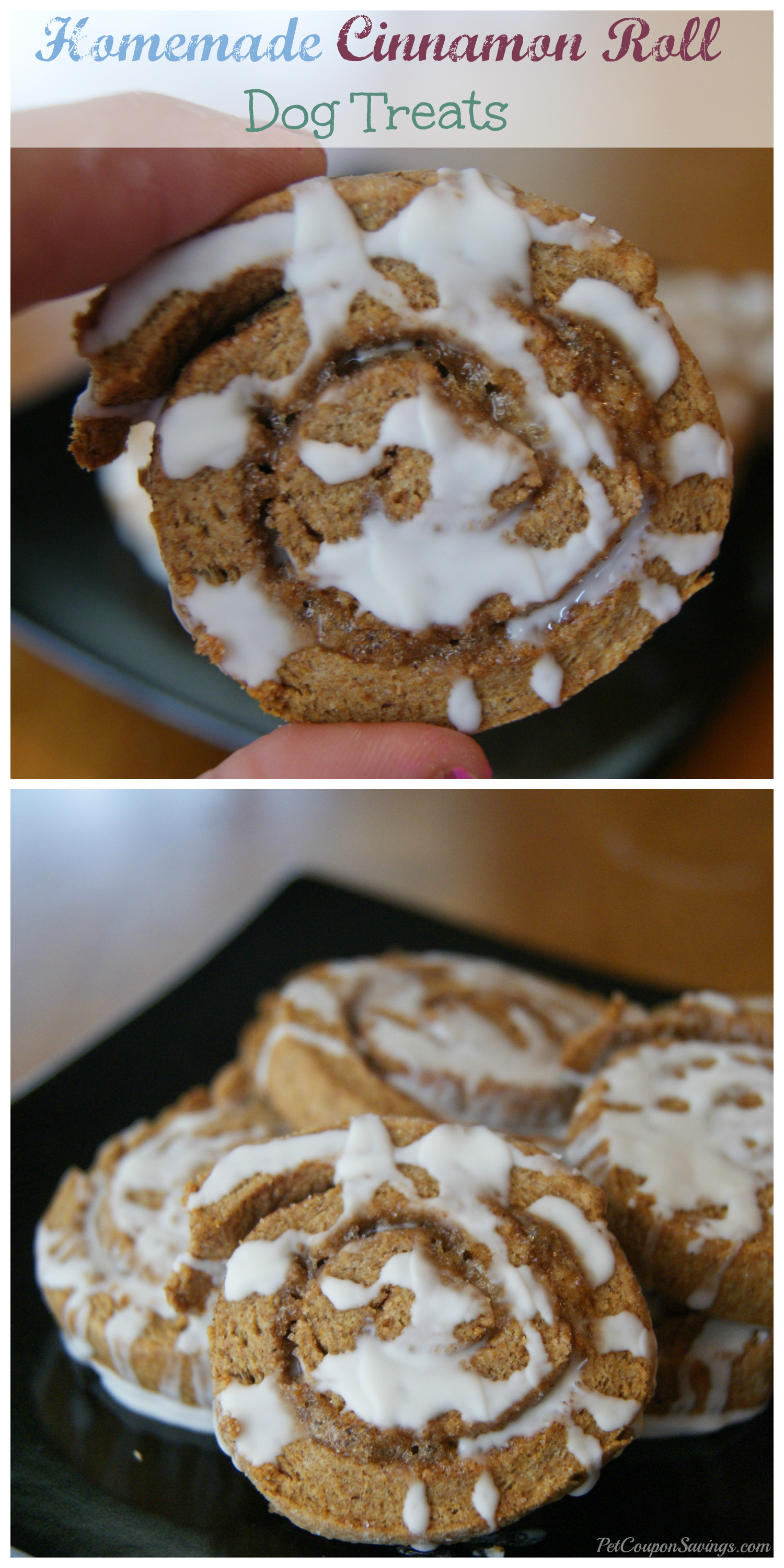 Homemade Cinnamon Roll Dog Treats Ingredients:
Cinnamon Filling:
1 Tbsp. brown sugar (optional)
2 tsp. cinnamon
Icing:

Homemade Cinnamon Roll Dog Treats Instructions:
Preheat oven to 350°.
Line a baking sheet with parchment paper or spray with nonstick cooking spray.
Stir flour and cinnamon together.
In separate bowl combine coconut oil, egg, and milk together.
Mix dry and wet ingredients thoroughly with your hands until well combined.
Flour surface well. Place dough on flour, knead 4 or 5 times. Roll dough out to a ¼" thick rectangle.
In a separate bowl combine cinnamon filling ingredients well. Sprinkle over dough. Roll dough tightly into a log. Slice dough to ½" thickness.
Place "cookies" on baking sheet. Whisk 1 egg, brush over the top of each cinnamon roll.
Bake for 15-20 minutes.
Allow to cool, store in refrigerator for up to 4 weeks.
For icing:
Place cornstarch in a small Ziploc bag, add milk or water 1 tsp. at time until cornstarch has a thick soup consistency. Massage bag to combine well. Snip off a small corner of the bag, keeping it pinched so you control the flow; drizzle "icing" back and forth over the top of your cinnamon buns. Allow to dry and place in an airtight container in the refrigerator for a week.
We hope that these Homemade Cinnamon Roll Dog Treats will become one of your pups favorite treats!