Spring is here and Easter is right around the corner. Is it time for you to whip up a new batch of homemade dog treats? Here's a yummy new recipe for you to try that makes a great gift for your own pup or to share with your dog-lovin' friends. These frosted Homemade Easter Egg Cookie Dog Treats are a sweet and fun way to treat your pet to an adorable holiday themed snack. If you want to avoid the food coloring, go ahead and leave it out of the frosting recipe, they would still be cute iced in white.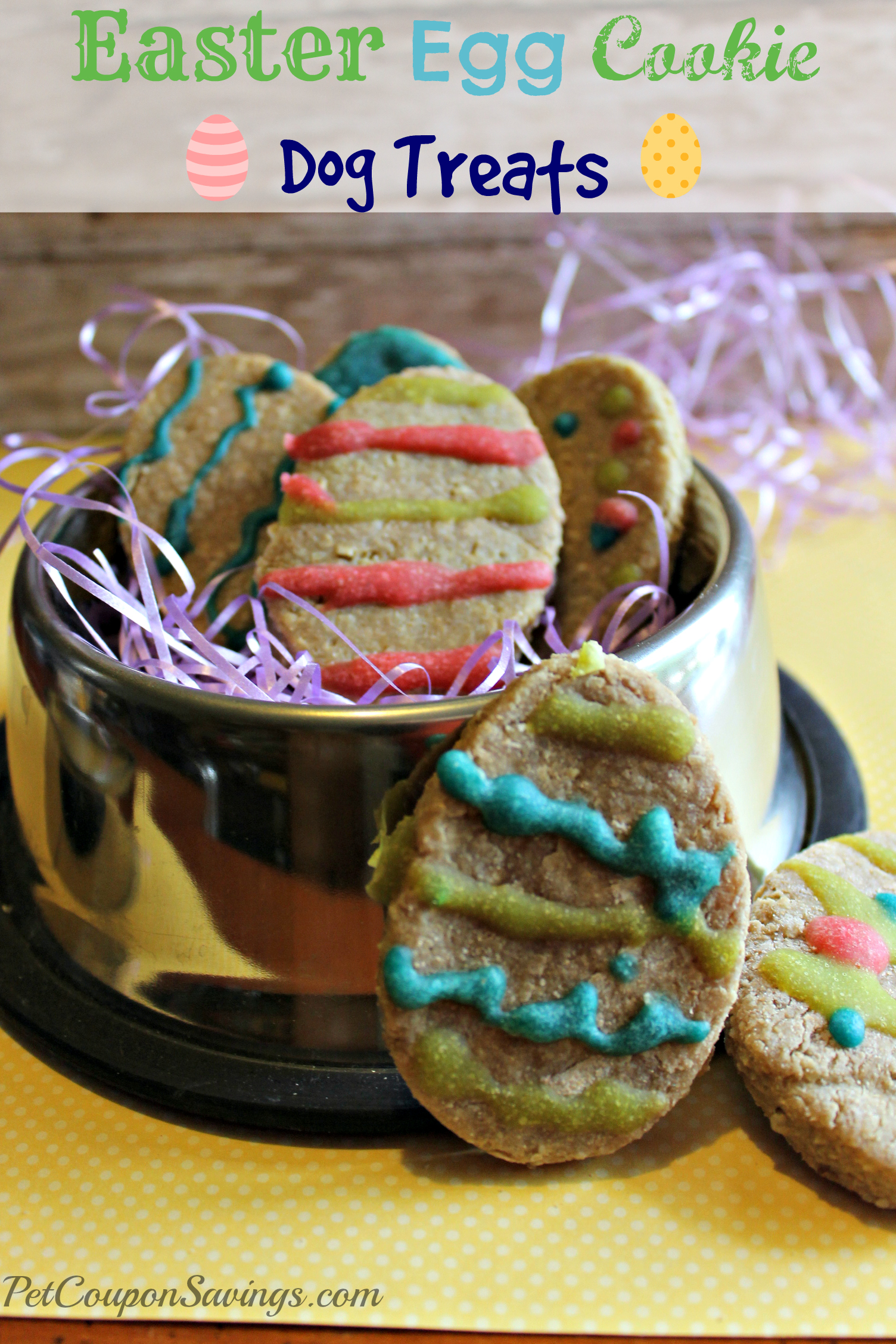 Homemade Easter Egg Cookie Dog Treats Ingredients:
½ cup Peanut Butter
2 cups Whole Wheat Flour
1 cup Steel Cut Oats
1 cup Hot Chicken Broth
2 Tbsp Olive Oil
2 Tbsp Honey

Homemade Easter Egg Cookie Dog Treats Instructions:
Preheat oven to 350°.
Place steel cut oats in blender, food processor, or coffee grinder until they are almost at a powder/flour consistency.
Combine peanut butter, hot chicken broth, olive oil, and honey. Stir until dissolved.
Stir in ground oatmeal and flour until well combined. (I like to use my hands to make sure everything is completely mixed.)
Place dough on a powdered surface and roll out to a 1/4" thickness.
Cut out shapes with cookie cutters.
Place on a parchment lined cookie sheet and bake for 10 minutes.
Ice cookies if desired (instructions below), place back in oven for 2-3 minutes.
Icing Ingredients:
4 Tbsp. Whole Wheat Flour
2 Tbsp. Water
Food Coloring (Optional. If you are leery of food coloring then you can top them off with an all-natural peanut butter icing or leave them plain.)
Icing Directions:
Mix flour and water until smooth.
Divide "icing" into snack size sandwich bags.
Add 1-2 drops food coloring, massage bag until thoroughly mixed.
Squeeze all mixture to one corner of the bag.
For creating details like lines and polka dots-Snip of a tiny corner of bag and squeeze gently as you go, drawing on your cookies.
Or simply ice the entire top surface with a butter knife.
Let cookies cool,store in an airtight container in the refrigerator for up to two weeks.
We hope that you and your furry family have a Hoppy Easter and enjoy these Homemade Easter Egg Cookie Dog Treats!