You can make cute and unique items for your dog without breaking the bank, while I love the variety of boutique dog items available out there I do not love the price tag. I enjoy making handmade items to house my pups various treats, clothes, gear, and food- especially if I can do it for free. I took an empty oatmeal container, a couple of nuts borrowed from my husbands man cave, and a can of spray paint I already had on hand and made this fun Fire Hydrant Treat Jar. You could also use it to house a leash and doggie doo bags for walks.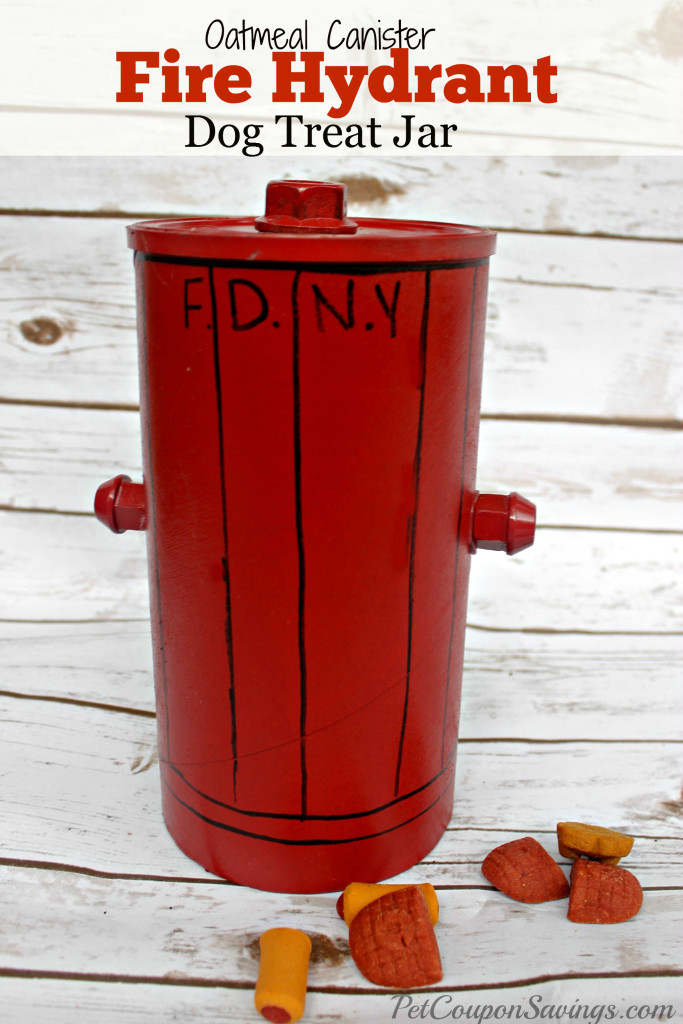 Fire Hydrant Dog Treat Jar Supplies Needed:
Empty oatmeal jar
Spray paint
3-5 nuts
Sharpie
Hot glue gun/glue
Painters tape

Fire Hydrant Dog Treat Jar Directions:
Remove label from oatmeal canister.
Place canister, lid, and nuts outside on newspaper.
Spray with a light coat of paint, allow to dry.
Spray with 1-2 additional coats to cover well, dry overnight.
Paint will scratch off your plastic lid, in order to make it more durable-spray with a clear coat first, spray red, then top with 1 or 2 more clear coats.
Use painters tape to mark off lines horizontally and vertically to create more detail on your fire hydrant, trace lines with a black sharpie.
Hot glue a nut on top of the lid, and 2-4 around the sides, this really makes it look like a realistic hydrant.
Fill with dog treats or food for a cute storage container.
Let us know if you make this super cute Fire Hydrant Dog Treat Jar too!