These Pumpkin Doggy Donuts are loaded with vitamins and a healthy dose of fiber. From the pumpkin to the flax seed they are loaded with healthy ingredients that go way beyond anything the store has to offer in a pre-made snack. Cinnamon has anti-cancer and anti-bacterial properties, yogurt is great for digestion, pumpkin packs a fiber punch, and flax seed contains omega 3 and omega 6-great for healthy skin and coat. These are truly one of my favorite treats to give my dogs since it is so good for them and they really love the flavor. I make a double batch and freeze half. In an airtight container these will last 1 month in the fridge and up to 5 months in the freezer.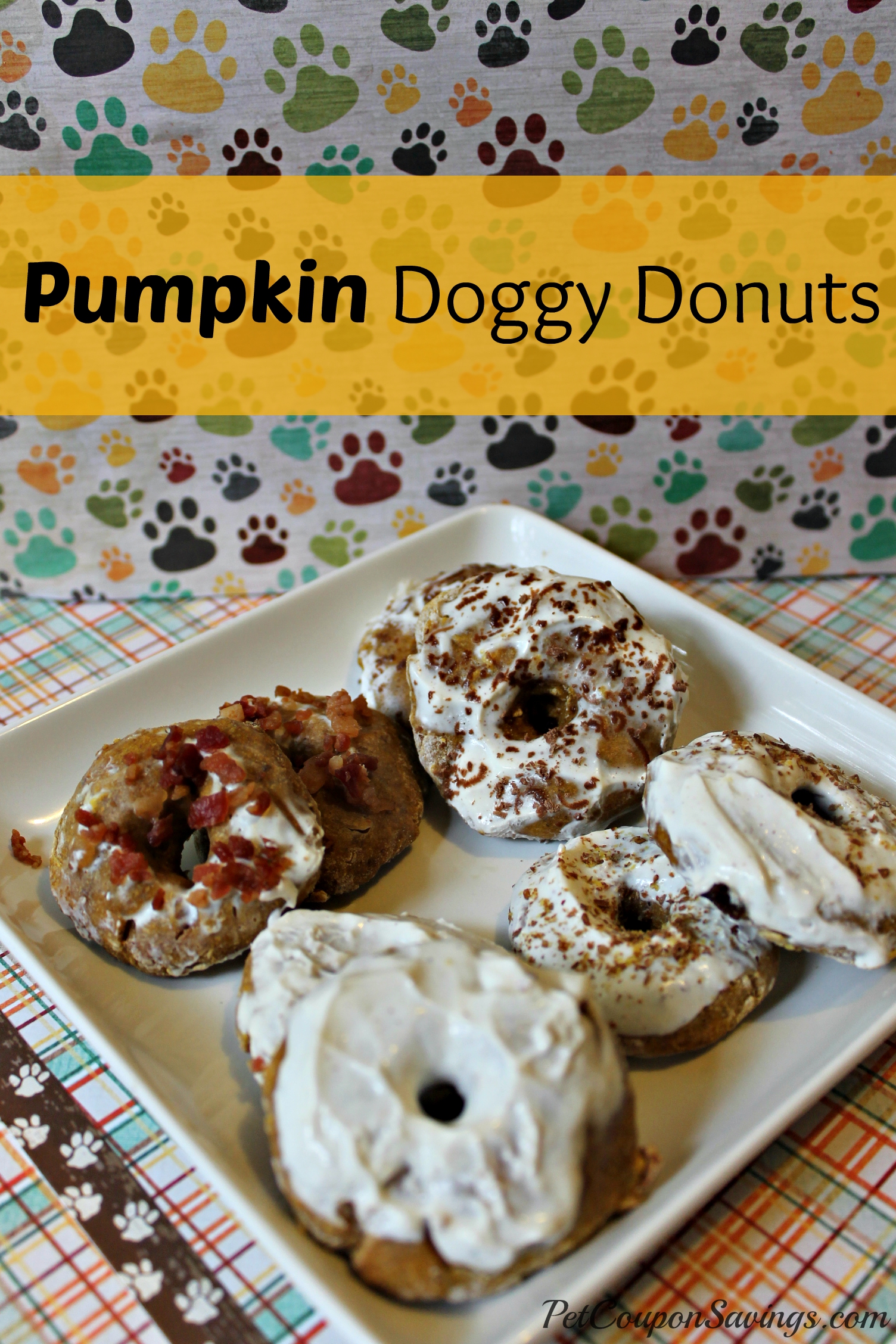 Pumpkin Doggy Donuts:
2 cups whole wheat flour
½ cup ground flax seed
1 cup pumpkin
¼ cup milk
1 Tbsp. cinnamon
2 large eggs
½ cup chicken broth
"Icing"- Plain yogurt and cinnamon
Pumpkin Doggy Donuts Instructions:
Preheat oven to 350°.
Combine dry ingredients in a large bowl.
Make a well in the center and add pumpkin, egg, milk, and broth, stir until well combined.
Add additional flour if needed, dough should be just slightly sticky.
Flour hands and roll dough into small balls.
Flatten dough in your hand to about 1/4".
Place doughnut on cookie sheet and poke hole int the center (I used a marker cap to make my holes).
Bake for 10-12 minutes until lightly golden brown and still slightly soft.
Remove from oven and allow to cool to room temp.
If you want to "ice" your donuts/doughnuts dip them in a mixture of plain yogurt with a dash of cinnamon. To go one step further you can add toppings by either dipping or sprinkling small items on your doughnut while yogurt is still wet.
I made some plain, sprinkled extra flax seed on some, grated carob chips, and even topped some with small bacon pieces. These were a big hit with the dogs.
We hope your pups enjoy these Homemade Pumpkin Doggy Donuts, too!
{ 0 comments }