Disclosure: This post is sponsored by Lunchbox but Pet Coupon Savings only shares information that we feel is relevant and beneficial to our readers.
The leaves are changing color and the air is getting cooler, it's really starting to feel like fall! One of my favorite parts of fall is, Thanksgiving! The delicious food and the family gathering together to express what they are thankful for. Our pets are a part of our family and should get to share in the joy of celebrating Thanksgiving too.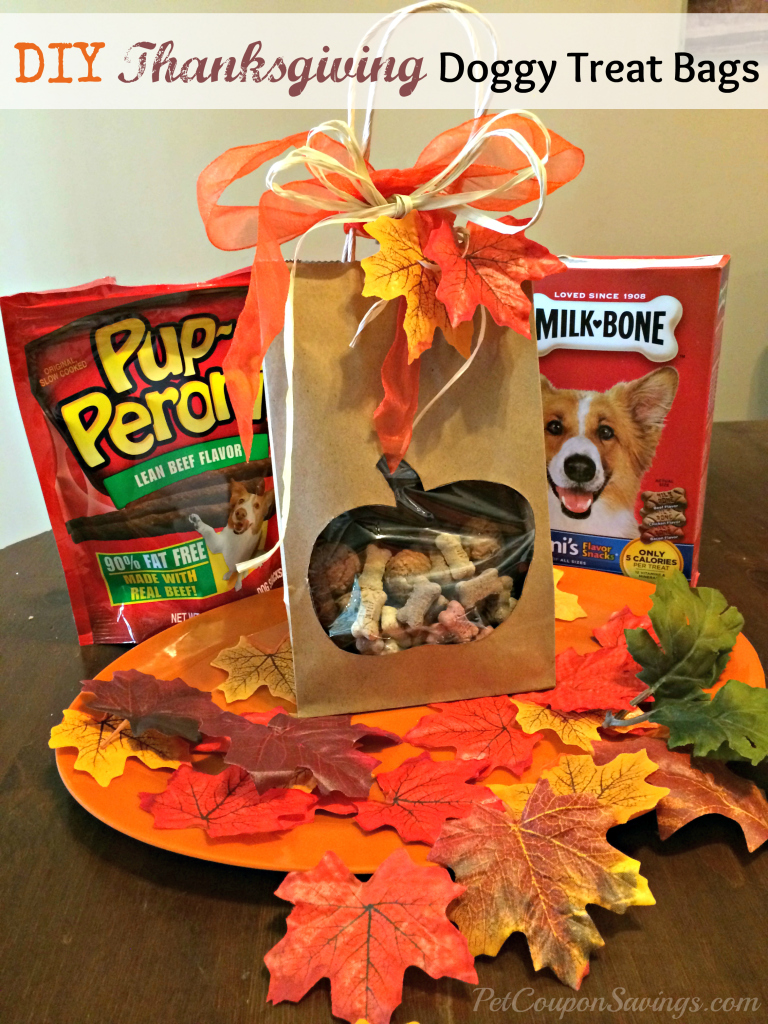 Make your dog these fun and easy DIY Thanksgiving Doggy Treat Bags. Your dog is sure to love this Thanksgiving gift filled with Milo's Kitchen, Pup-Peroni or Milk-Bone dog snacks! Make several of these Thanksgiving Doggy Treat Bags for your friend's and family member's pets, too! Fill your dog's treat bag for FREE if you WIN one of the 10 FREE product coupons! (Details below.)
Also, don't forget to check out all of the fun DIY Thanksgiving crafts here on the Treat The Pups website. I love their "Cornucopia of Treats" idea.

DIY Thanksgiving Doggy Treat Bag:
Supplies needed:
Brown paper bag
Scissors
Tape
1 Plastic Baggie
Pen or pencil
Ribbon, Raffia and Leaves for decoration
Note: I bought all of these items at the dollar store!

DIY Thanksgiving Doggy Treat Bag Instructions:
1. Trace outline of pumpkin or other fall-themed picture (a turkey, apple, leaf etc.)
2. Cut out the shape from the bag.
3. Get the plastic baggie and cut a square that fits the size of your pumpkin (or other shape).
4. Tape the plastic baggie inside the paper bag behind the cut-out shape.
5. Fill your DIY Thanksgiving Doggy Treat Bag with a fun variety of treats like Milk-Bone, Milo's Kitchen and Pup-Peroni.
6. Tie the top of the bag with ribbon and raffia and attach a couple decorative leaves to make it even prettier. That's it! :)
**FREE Dog Treats Coupon Giveaway**: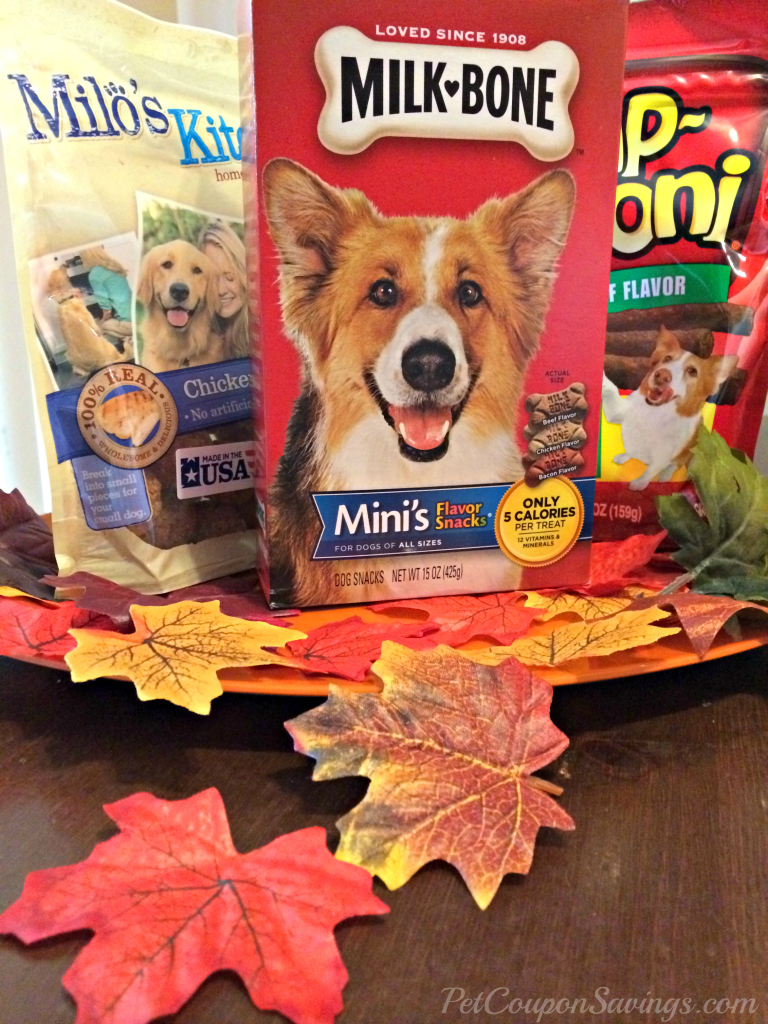 **Comment below with your favorite Doggy Thanksgiving Gift idea from the Treat the Pups page HERE and introduce us to your pets with their names/breeds/ages. We will select 10 WINNERS at random to receive a coupon for a FREE product from Milo's Kitchen, Pup-Peroni or Milk-Bone! (Note: All winners will be contacted via email so be sure to check your email to see if you're a winner!)

{ 22 comments }